955 The Game signed on April 1st, 2013 to give Columbus Sports Fans an alternative when it came to sports talk in the Capital City. With the power of CBS Sports Radio and personalities like Jim Rome, it began an ambitious quest to gain the ears and loyalty of Central Ohio sports fans.  Long-time QFM96 stalwart Arch Madness was the first local personality to be heard on the station.  Bringing his high spirited energy and sense of fun, Arch was soon joined by former Buckeyes & NFL star Matt Finkes to create the "FnA Show". Yes, "FnA" covered the ins and outs of our obsession for Buckeyes sports but also made sure to give fans of the Blue Jackets, Crew, Reds, Indians, Browns, Bengals, Cavs & the PGA an outlet on a regular basis.  Even NASCAR & Auto Racing were given ample coverage with Michael Shank Racing.


Crew games were broadcast on 955 The Game for one season (and no, we didn't hate soccer fan much to the belief of some).  Neil Sika, Frankie Hejduk and other Crew dignitaries were heard on a regular basis.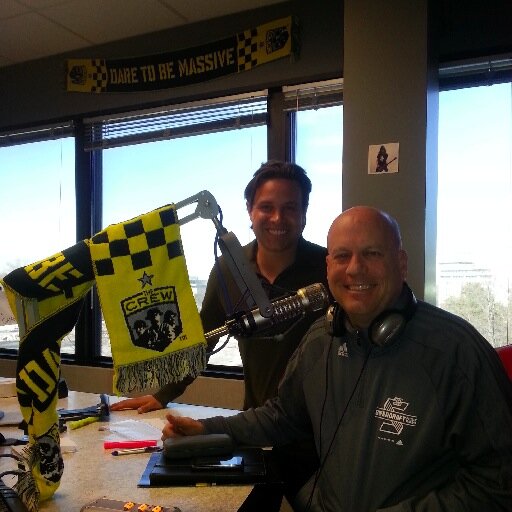 Sadly though, radio can be a cold business and Arch was let go & Matt went solo with "The BIG Show". Personalities like Bleacher Report's Ben Axelrod & former Buckeyes Basketball Star George Reese became regulars on the show.  We also would like to think we had a small hand in helping The CBJ Artillery's efforts in getting "We Are The 5th Line" off the ground for Blue Jackets fans.


Browns & Cavs games also became part of 955 The Game's coverage.  Heck even Super Bowl 49 made 955 The Game's airwaves.
Eventually Finkes & 955 The Game parted ways and a long time Columbus favorite, The Torg, returned to sports talk with a hour long show at Noon.  Torg brought a lot of fun to The Game with segments such as "I've Got Some Bad News" & his very own rant line. Plus, WWE talk…yes, the show was not ashamed or afraid to have some 'rassling talk.  Torg, of course, would also like you to know that he is the only sports talk host in Columbus qualified to talk Blue Jackets hockey. Humble braggart that he is.


"The Stiller Project" also became part of The Game lineup at around the same time as Stiller, a native of Northwest Ohio, finally realized his dream of being able to talk Ohio State Football & Basketball in Columbus itself.  Of course, Stiller couldn't resist taking shots at his producer "Research", who sounded a lot like Torg's producer "Lovestain".


Stiller was a driving force for the Clark Kellogg Classic Radiothon, which aired on 955 The Game.  With the help of many Buckeyes luminaries, the Radiothon raised funds for the Ronald McDonald House of Columbus, Fellowship of Christian Athletes and Big Brothers Big Sisters of Central Ohio.


So many were instrumental in making 955 The Game a reality from Ron O'Harra to Eric Reiser to Adam Sabie, who I am grateful to for letting me be a part of "Columbus' Sports Station" when the opportunity to blog and do social media for the station opened up.
I am a lifelong Columbus resident and sports fan & when the chance was presented to me to blog and post for 955 The Game, I pounced on it.  I enjoyed it very much…the opportunity to see what was on the mind of sports fans in Central Ohio.
Sadly though, 955 The Game has come to an end.  The reality of the radio business means stations are sold and when stations are sold, formats are changed.  I would like to say on behalf of those who were a part of 955 The Game, thanks.  Thanks for listening, thanks for calling, thanks for tweeting at us and thanks for posting on our facebook page…yes, Kenny McCoy, even you.  Thanks for being a part of it.